As the legions of the socially engaged continue to swell, the chatter from updates, likes, check-ins and tweets has reached a near deafening roar.

The same goes for the blogosphere where it has now become Mission Impossible-esq to stand apart from the army of scribes who pass much of their day furiously pounding away on a keyboard. Their march for mindshare and SEO relevance is often one of content quantity, rather than a commitment to carefully constructed, insightful prose.
The path to awareness we followed in our client work a mere 18 months ago was to stand up a social site, articulate an opinion, promote in targeted communities and lean on the company brand for credibility. Those days have faded to reveal today's more challenging reality.
For corporate funded social media marketing campaigns, the escalating competition for readership, attention and community places an absolute priority on creativity and thought leadership. We've been quick to recognize that success attracting quantity and quality of social site visitors for our clients now demands the articulation of thoughts, opinions, perspective and analysis in a unique and, at times, unexpected way.
Consider the
"Secure Thinking"
program we work on in partnership with British Telecom's (BT) Managed Security Services group. Now in its fourth year of execution, the clean, news publication inspired design on the social site remains constant.
Yet, the editorial strategy has evolved to incorporate user attributed content from clients, partners and industry analysts, collections of posts tuned to timely issues, and point/counterpoint themed debates that involve recognized and respected industry thought leaders.
Xtranormal videos included on Secure Thinking.
The program's priorities are clear:
--deliver to readers an informed perspective they will only find on BT's Secure Thinking
--work collaboratively with the client's sales team to support the achievement of critical benchmarks related to lead generation, prospect cultivation and deal capture
Creativity is social media execution can also be expressed in how content is presented, rather than merely an innovative methodology for its construction.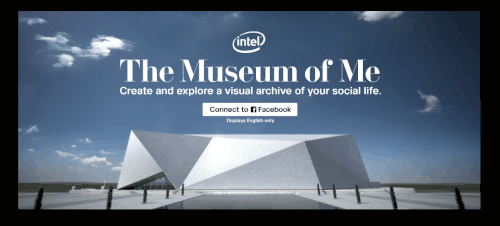 Museum of Me shines with creativity.
The campaign's content is merely a repurposing of updates, photos and videos from a participant's Facebook presence. However, the idea of displaying this content in a unique, museum style online environment is brilliant.
The audience reaction was swift and effusive with nearly one million hits within five days from launch. Plus, the creativity and imagination of the campaign reflects well on Intel, positioning the company as a market leader with the ability to transform industries.